ATS Kabana High is a commercial property that adds more to life with its well-managed office space, shops, food court, and much more. ATS Kabana High gives an opportunity to expand your business in the most modern and sophisticated manner that certainly adds more to the lifestyle. In today's business environment the business is not limited to small dingy rooms but has elaborate into more swanky environs that gives a feeling of best in class comfort and lifestyle getting managed at a cost that is affordable. The business person who is always on the hunt for good office complexes, shops, or kiosks can find the best offering at ATS Kabana High making it a world-class business set up to serve the needy. Another Builder Projects: Gaur Platinum Tower Sector 79 Noida, Resale Flats in Noida Extension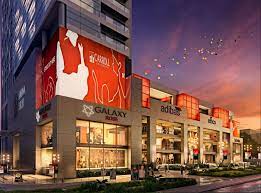 ATS Kabana High stands out to be the most dynamic of the workplace environment and gives a commercial space that gives an international appeal. ATS Kabana High also gives a launching platform for your existing business in a new environment and provides amazing enterprise growing infrastructure. ATS Kabana High is made by renowned international architect firms and provides an entire structure that matches with the ambiance along with state-of-the-art construction that gives a great way to enjoy most modern facilities at a better cost. ATS Kabana High offers a complex that is built in an area that has a higher concentration of all kinds of office and business ventures that give an opportunity to businessmen to expand their business within new premises.
ATS Kabana High is distributed across 2.5 acres of land and has RERA registration. It also has office spaces that range from 450 sq ft, 750 sq ft and the retail shops are within a range from 380 sq ft to 800 sq ft. Also, it gives the sure way in terms of footfalls as there are more than 1 lac families residing in the nearby residential complexes. ATS Kabana High also offers interiors in the office that may make you feel spellbound and it also has the most modern amenities along with entertainment zones, showrooms, kids play zones, hypermarkets along many other best business canters.
ATS Kabana High has many of the features that make it a world-class business structure. It has retail outlets that are easily accessible, sufficient parking space for the clients, earthquake-resistant RCC framed structures, CCTV cameras installed at strategic locations, and complete power back up making it a great place for investment. ATS Kabana High Shop Price List has a floor plan which has a lower ground floor with shops of 450 sq ft. The ground floor, the first floor also has shops of 450 sq ft. The second floor and third floor have a shop space of 380 sq ft and the third floor also has food courts. The fourth-floor plan has space for multiplex and restaurants with an area of 1400 sq ft. While the office space has the 5th to 28th floor with an area of 600 sq ft making it a great place for investment for the business who look for growth and prosperous environs.