Gaur City 1st Avenue Resale is one of the best residential apartments that are made by the reputed builder's group Gaursons. The real estate business conglomerate has come up with best-in-class comfort and well-managed residential apartments that give an opportunity to enjoy a magnificent environment and atmosphere. Gaur City 1st Avenue offers apartments with a totally new concept of walk to home, walk to work and walk to school. Since, all the necessities which are about shopping, office work and schools are in the close vicinity it gives a best of the homes in the form of Gaur City 1st Avenue. Gaur Luxurious Project: Gaur Mulberry Mansions Master Plan, Gaur Saundaryam Greater Noida West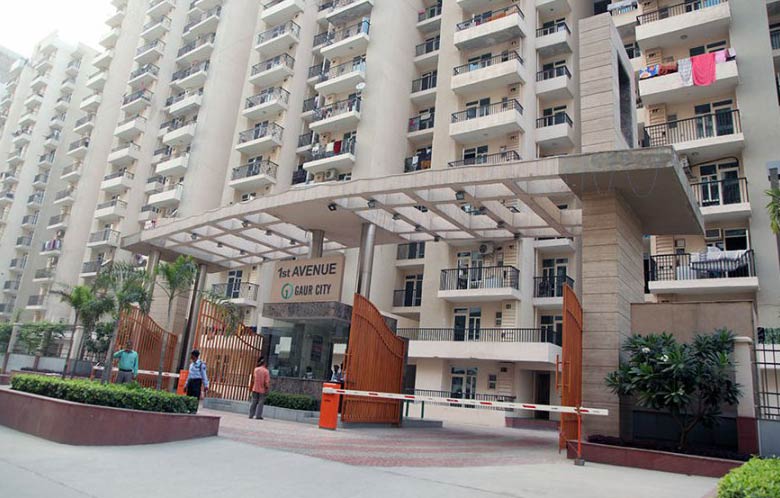 Gaur City 1st Avenue is homes that have become successful with best-managed infrastructure. The project here has on offer 2076 units and 12 towers with the backdrop of the magnificent landscape. The project is well designed for 2 BHK and 3 BHK apartments and the minimum area on offer are 860 sq ft, 1470 sq ft, and much more. Gaur City 1st Avenue offers homes with fully functional urban facilities along with great amenities. The homes here have projects which are known to be giving a brilliance or superiority as the best form of architectural innovation that gives homes with best of space.
Gaur City 1st Avenue is located at one of the best locations that have medical facilities of world-class on offer. It has Max Healthcare hospital within few meters away and the other necessity such as CITIBANK atm is also very near to it. Gaur City 1st Avenue has homes that offer homes that are near to shopping complex and it has shops of renowned national and international brands. Gaur City 1st Avenue has provided guaranteed security features with an intercom. It offers a hassle-free car parking system with an easier payment basis. Gaur City 1st Avenue offers homes with eco-friendly landscapes along with adequate places are provided for children's playgrounds in the form of parks and much more.
Gaur City 1st Avenue has homes with 75% of open area and it gives residents the closest way to reach nature. The amenities and facilities are of stupendous quality and the structure offers earthquake resistant structure which makes it safe and secure. Gaur City 1st Avenue has amenities that are in the form of a Foyer, a higher number of lifts per block, power back-up, 24*7 water supply, security, intercom, Wi-Fi, maintenance, Vastu friendly features, fire alarm, and much more. Gaur City 1st Avenue also offers a gym, swimming pool, clubhouse, tennis lawn, CCTV cameras, lawn tennis court, kids school, and much more.
Gaur City 1st Avenue has renowned architect by RSP, Singapore which is an internationally acclaimed Group. The homes also have special herbal park for the senior citizens and when it comes to connectivity then the metro station is near to it. The project is spread in an area of 112 acres of land and has best of coffee lounge, restaurants, private terrace, garden and many other superior amenities that makes it a complete project giving great way to enjoy for the city dwellers as residents.