Gaursons is a leading brand in the real estate sector and has developed many top-grade commercial projects for business freaks too. For instance, the Gaur City Center is world-class a commercial project of the Gaursons, which is getting immense popularity among the buyers. Many traders and business lovers are taking an interest in this project, which enables them to buy furnished retail shops and office spaces for business at affordable prices. Talking about the location of this project, it is based at Greater Noida, West. The location is easy to commute via road and gives proximity to a nearby hospital, metro station, banks, ATMs, etc. Besides, the project site will give you access from every corner of Delhi, Noida, and Greater Noida too. Also, you will find the places to like NH-24, FNG Expressway, Gaur Chowk, etc., at a few minutes distances from the site.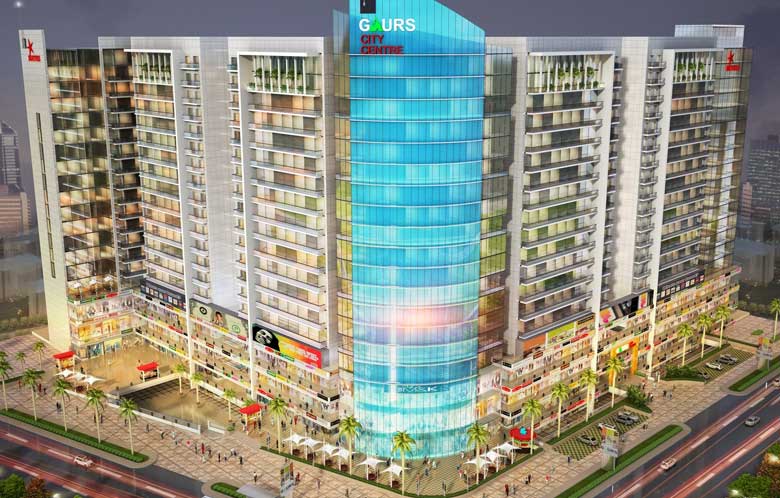 Gaur City Center Food Court is a tremendous commercial project for the shoppers and business freaks across the Delhi/NCR. So, if you want to pursue a new business or start new office bran in a commercial building, you should book for shop or office space in this commercial project of the Gaursons. This project is under construction yet and offers furnished retail shops and office spaces. Thus, it is an ideal option for businessmen to start a new venture by booking shop or office space in this project. You can start businesses like photo studio, food court, restaurant, salon, multiplex, etc. This commercial building has some attractive specifications that include 1 tower, and 17 floors. Thus, it will be a great deal for businessmen to get space for new business in this commercial project and start trade now!
You will also, find some useful amenities at the site of Gaur City Center such as 14 high-speed elevators, car parking, ATMs, CCTV cameras, 4 sides entry, air-conditioners, clean toilets, total security, lighting, etc. Moreover, the project has some more things that will inspire buyers such as garbage collectors, drainage and sewage system, rain harvesting the system, etc. Hence, this commercial project will offer the best amenities that will enhance the worth of the project and will fascinate businessmen to book for property soon.
You will be surprised to know about pricing policy for office space and retail shops in the Gaur City Center project. The giant has estimated Rs.15 Lacs onwards price of office spaces having size ranges from 250 to 450 Sq. ft. And, the prices of retail shops of size range between 141 to 563 Sq. ft. may begin from Rs.22.28 Lacs. Thus, it is the right deal for the businessmen to book for shop or office space in this Gaursons commercial project at start business easily. Other Commercial Project : Gaur World Street Mall Possession Date : September-2027