Lotus Arena Sector 79 Noida is newly launched project by Lotus Green group in prime location of Sector 79 Noida. This project located on green and sport sector of Noida with more than 95 acres of sport complex in Sec 79. More knowledgeable information about this project is that this project is certified green residential project that located in one of the best prime location of Noida. Life this project is complete with lots of awesome greenery, latest amenities and sports. It is a one of the best place where you will find out life in its different type of colours comes in your life. These project enormous flats are designed to hug your luxury dreams. Calm planted pathways,jogging tracks, green landscapes, and will bring you more closely to nature so you can come home to a healthy and green wonderful living.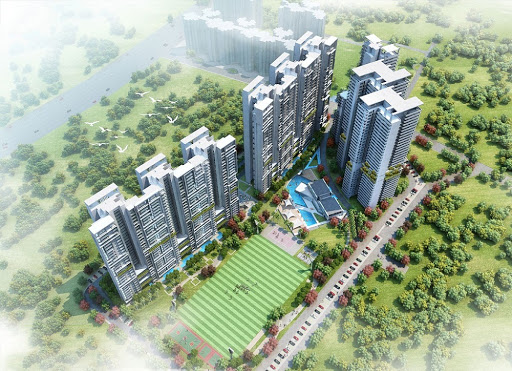 Lotus Arena is one of the best green certified environmental residential projects with big sizes of 3 BHK and 4 BHK flats along with lovely greenery and all amenities. This Group is founded by Mr.Nirmal Singh. Chairman of Lotus Valley School, they have 20 years of experience in the real estate and they have delivered more than 15 Million sq.ft residential and commercial projects. Lotus Greens is one of the real estate companies in India for which sustainability, greenery, environmental, and accountability comes first so we can provide you luxury project. Company have big plans regarding this projects that company can all set to become a 100 % green company and they have already started forward in that direction.
This project is taking the dip in the luxury swimming pool or jog in green gracious park. It is place surrounded by 96 more than acres of green sport complex where take a short break from stress of this physicist world. This project ambiance of our state of the art club will always give you the surpassing rejuvenation. You can feel the magical touch of nature, greenery, and experience the luxury where your lovely life is complete.
Lotus Arena Noida Sector 79 is admired for pure diamonds construction and appeal. This project of Lotus green has wonderful landscaping and all type of sports facilities and services. This project will have water concision system. This project will be home to make many people happy and satisfied for making home owners. Open area of this project, the quality of amenities offering will transform a house into a dream home.
Lotus Greens more project : Lotus Arena 2 Payment Plan