ATS Le Grandiose Phase 2 is the extension of ATS Le Grandiose located in Sector 150, Noida-Greater Noida Expressway, and retains all the qualities, finesses, and luxuries plus some special features that are grander than the first one. It offers 3 & 4 BHK of luxury abodes of international class architecture and builds. Again green factor ring in quite prominently with this project because it has a formidable amount of greenery surrounding it.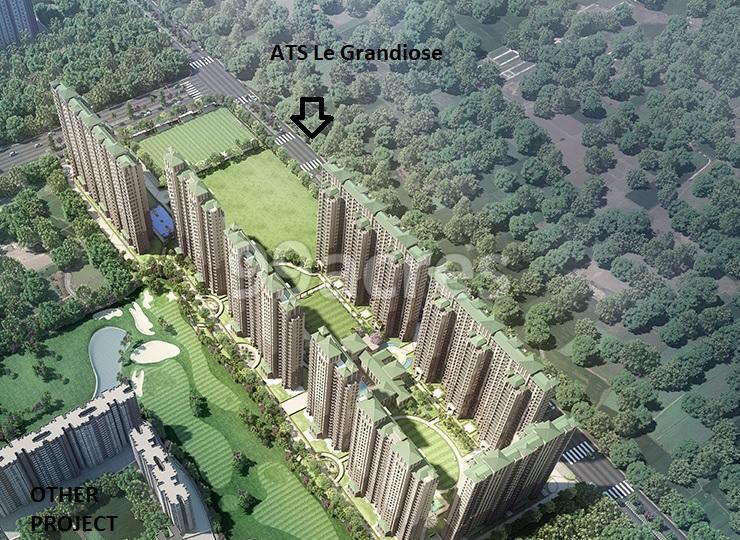 Where exactly is ATS Le Grandiose Phase 2?
The project is right there that any convenience-loving resident would love to buy. The location is accessible from all sides as it embraces Noida-Greater Noida Expressway, Yamuna Expressway, and also reaches NH-24 within a few minutes of drive. Pari Chowk is very near to the project so is the access to various metro stations including a new one coming up within close proximity. It is also within close proximity of the acclaimed NCR's Sports City. The expressways and highways ensure that you reach Delhi, Ghaziabad, and the rest of the NCR quite smoothly and without wasting time. The project is ideal if you are doing business in Delhi but does not want to live there for obvious reasons.
What housing does ATS Le Grandiose Floor Plan Phase 2 offer to buyers?
Like Phase one of ATS Le Grandiose, this too offers 3 and 4BHK apartments on a grand scale as it has enhanced build and fixtures and wide and spacious rooms with large windows and balconies. The entire Le Grandiose project is sprawled over an area of 23 acres and has a proposed 1175 units packed into tall and spacious towers numbering 20 and each containing 23 floors Plus ground floor. 80% of the total area is open and is programmed for green development, which emphasizes the drive to provide eco-friendly surroundings to the residents. The 3 & 4 BHK measure from 1625 sq ft to 3200 sq ft and they are priced at Rs. 81 Lac and upwards of Rs. 1.6cr. It is an under-construction project with one tower ready for occupation and is RERA Registered.
What amenities are offered?
You can expect ATS Le Grandiose Phase 2 to offer everything on a grand scale and that will include basic facilities, sports and fitness apparatuses, entertainment & socializing, eco-friendly features, convenience and security, and services for your lifestyle. As the name suggests the project is turning out to be a grand luxury project of one of its kind in the NCR and you could be part of it. ATS More Project ATS Destinaire Noida Extension.