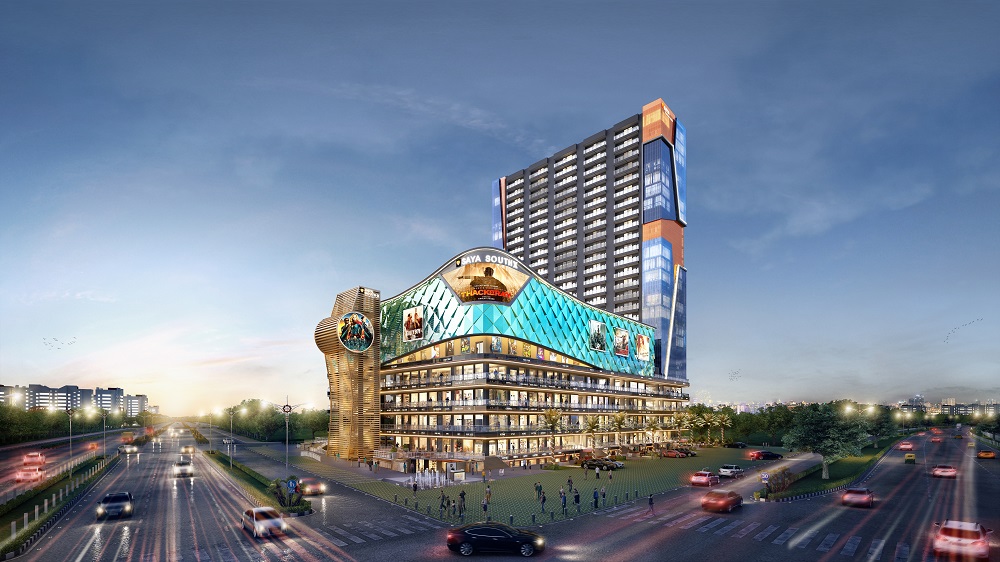 Saya South X is a commercial project that comes as gigh street development from the Saya Group. It is on a 3 side open plot and is a high-street destination. It comes with shopping, entertainment, food hub business suites and work spaces. Saya builders have come up with some iconic development and the properties by the group are seen from far and wide. The few development at Indirapuram makes you feel about the depth which the builder has created. Saya South X too resembles the same presence of business with quality construction, on-time delivery and customer satisfaction. Apartments in Noida / Apartments in Gaur Yamuna City / Apartments in Delhi NCR
Saya South X comes with shops, suites, food court and is an under construction property. It is a lifestyle destination that comes within huge residential zone that adds to its footfall. The commercial project comes with retail shops, anchor stores, lifestyle retail, gourmet dining and 6 screen multiplex. It has business suites, restaurants, smart offices, cafes and best of the entertainment and recreational activities all under one project. Saya South X retail and shopping features some of the varieties of stores, branded retail outlets and hyper stores.
Saya South X comes with perfect location at Greater Noida West. It is spread over 12000 sq meter and is on 3 side open plot. The project has secure campus with CCTV cameras surveillance. It is at 130 meter wide road and is a low maintenance project. It comes with huge expected footfalls as it has 4,00,000 families in vicinity. It has 15 minutes drive from the Pari chowk, Noida, Indirapuram, Sector 18 Atta market. It has retail shops, anchor stores, lifestyle retail, gourmet dining, 6 screen multiplex. The project comes with floor specifications of lower ground floor, ground floor, first floor, second floor, third floor with food court and fourth floor with international street food market.
Saya South X has come up within a prime location in Greater Noida West. It comes with well sustain and higher rate of footfall. The mega commercial development with unique, sustainable and flexible development that makes it a better option to invest. In the coming few years the location will add many new factors of investment opportunity but Saya South X will top all. Its because of the project worthiness and the development which it does that caters to the needs of buyers and investors. The project comes with an area of 12,000 sq meter of development area. It has 2 lakhs of estimated footfall and with 3 side open frontage.
The project comes with mixture of leisure, work and entertainment. It has every iconic structure that redefines its location and comes with investment with different types of commercial activities and business. It has lifestyle retail with multiple retail shops of different product categories and with market segments that caters to large number of people. It has anchor stores that comes with good choice to invest and makes it a great place to come up with your own business. It has gourmet dining that makes it a preferred choice for young crowd and certainly the project is to enthrall buyers of all kinds.