Nirala Aspire Low Rise Noida Extension is a premium lifestyle development home. The residential project is the first choice for buyers who wish to go against the high-rise. Many among us find homes with high-rises uncomfortable and wish to have homes with low-rises which are safer and convenient. In the past few months, we must have noticed a flurry of tremors in Delhi-NCR and the earthquakes were too prone. This makes us think about our needs, staying at a high rise with floors that reach 30 or more, gives you jerks. Now, getting back to the residences it gives you the best of the floor plans and makes your wish come true to buy homes at great prices. The specifications, lifestyle amenities, and the builder all stand together to make it a great success. CRC Joyous, Saya South X, Palm Olympia Phase 2, Bhutani Grandthum, Godrej Tropical Isle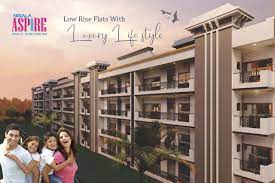 Nirala Aspire Low Rise Noida Extension gives homes that stick to its theme for low rise. It adds to all the comforts and is spread over huge acres of land. The residential project is with comforts that add to the comfort and create opportunities for an environment that suits your needs. It gives you a healthy lifestyle where you can even catch up with the stairs to reach your home without using escalators or lifts. This gives you a healthy start in the morning or evening and with less dependence on stairs, it gives you more comfort. The residential projects are with 3 bHK that has bottomed, stilt ground, and reaches up to 4 floors. The residential configurations are 1913 sq ft, 1784 sq ft, 1596 sq ft, and 1579 sq ft. The project is an iconic development that reminds you of the low-rise homes with independent floors as seen in Vaishali and Indirapuram. The same architecture is reflected with more residences per floor although there is more to get at a better cost.
Nirala Aspire Low-rise Noida Extension not only offers an unbeatable price, but the highlights add more to the count. The residential project is with some of the highlights that are exclusive to this project. It is with ground + 4 floors + terrace. The project has a location that is turning out to be one of the biggest residential development areas for buyers. It is with location that is constantly coming up with new opportunities as the business and other developments are on a high. It is with best the location at Sector 16, B, Greater Noida West. The project has a modular kitchen, false ceiling, bedroom wardrobes, and home automation. It is with RERA approval and the ID is UPRERAPRJ508551. It gives you less of neighbors with only 4 apartments on each floor. The project gives you a lift facility which adds to the comfort for elders and the entrance door is 8 feet. If you look for Nirala Aspire low Rise Noida Extension it's with launch year of 2021. The possession which is the first ask by buyers is in 2027. It is currently an under-construction project. The amenities you look for are a riverfront clubhouse, an EV vehicle charging station, a miniplex kids pool, and a multipurpose hall.